The French Society of Process Engineering (SFGP) Brings together, at the French level, professionals working in the field of process engineering : researchers and teachers-researchers, industrialists and suppliers from all business sector: chemistry, petroleum, pharmacy, cosmetics, food processing, stationery, metallurgy, water treatment … It has about 500 members.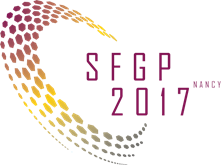 Every two years, the French Congress of Process Engineering takes place, during which SFGP members present their work and exchange on various themes. Thus the next congress will be held in Nancy, from
11 to 13 July 2017
, on the occasion of the 30th anniversary of the French Society of Process Engineering.
Find out more
On this occasion, Progepi presents the work that it carried out within the framework
LORVER
project in collaboration with the laboratory LRGP.
This project, supported by the Greater East Region and the European Union (FEDER), is intended to create a non-food plant biomass production sector through the use of degraded sites and industrial by-products. It brings together a consortium of private companies and Lorraine scientific research laboratories. In this project, PROGEPI is in charge of the realization of the Life Cycle Analysis, of the developed sectors.